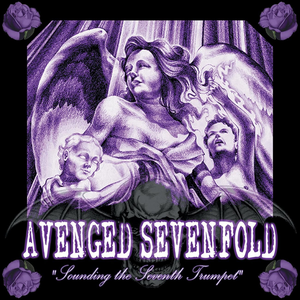 Album: Sounding the Seventh Trumpet
Artist: Avenged Sevenfold
Release Date:
Album Tracks:
Sounding the Seventh Trumpet is the debut studio album by American rock band Avenged Sevenfold, released on January 31, 2001 by Good Life Recordings, and subsequently re-released by Hopeless Records on March 19, 2002, featuring slightly different cover art and the band's new guitarist, Synyster Gates, who would go on to appear on every other Avenged Sevenfold release. As of 2008, Sounding the Seventh Trumpet has sold 200,000 copies worldwide. The title 'Sounding the Seventh Trumpet' derives its name from the book of Revelation, specifically referencing chapter 11 and the sounding of the last (seventh) trumpet, signifying the end of the world. Valary DiBenedetto (M. Shadows' wife) performs vocals on the track "The Art of Subconscious Illusion". The album was released as 2x12 vinyl, LP, 33 ⅓ RPM, Purple on 2008 in US. User-contributed text is available under the Creative Commons By-SA License; additional terms may apply.